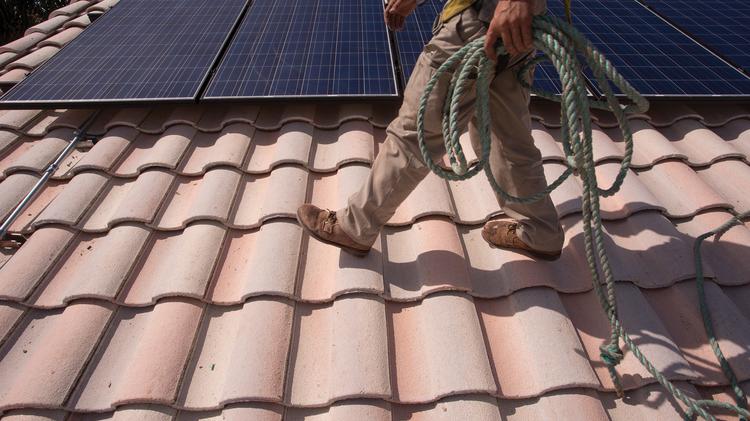 Arizona's renewable energy standards have done a lot to bring solar power to the state, but a report released Tuesday has found the requirements have boosted job creation, clean air and water as well.
The report, developed by Boston-based sustainability nonprofit Ceres and Berkeley, California-based Strategen Consulting, found the standards that required public utilities to get 15% of their power from renewables by 2025 have created thousands of jobs, lowered particulate emissions and avoided cost for ratepayers.
"A lot of groups had hypotheses about the benefits [of the renewable energy standard], but now the proof is in the pudding," said Alli Gold Roberts, director of state policy at Ceres.
The report comes as the Arizona Corporation Commission, the body that originally set the standards, has had discussions about overhauling and upgrading the standards. Arizona was the first state to pass a renewable standard for public utilities, but other states have since set a much higher bar for those standards.
It also comes as Arizona Public Service Co. announced plans in January to produce all carbon-free energy by 2050.
"This report substantiates that [renewable energy standard] has yielded significant economic and environmental benefits to Arizona," said Ed Burgess, senior director at Strategen and lead author of the report, in a statement. "Going forward, we expect the benefits of deploying additional renewable energy will significantly exceed the costs if implemented in a smart and strategic manner."
The move by APS and its parent, Pinnacle West Capital Corp. (NYSE: PNW), are good, but Gold Roberts said Arizona still could benefit from increasing its renewable standard as other states have done.
What the report found is the standard created about $787 million from 2008 to 2018 in avoided fuel costs for consumers in APS' territory and another $235 million for Tucson Electric Power.
The standard also helped reduce carbon dioxide emissions in the state related to power plants by about 3% and produced health-related benefits from reduced emissions of about $185 million within APS' territory and $61 million for TEP.
That equates to 571 solar companies operating in the state, including eight manufacturing companies, along with the creation of roughly 7,500 jobs as of 2018.
Arizona saw a big boost in solar companies and jobs shortly after the standard was passed as utilities began a massive spending spree to bring solar in particular online. Those jobs faded as utilities cut back on installations of utility-scale projects and fight over how rooftop-solar customers would be compensated.
Despite those challenges, Gold Roberts said Arizona's job base has been relatively stable.
To view the full report, click here.